Western Prince William County could house more than 130 data centers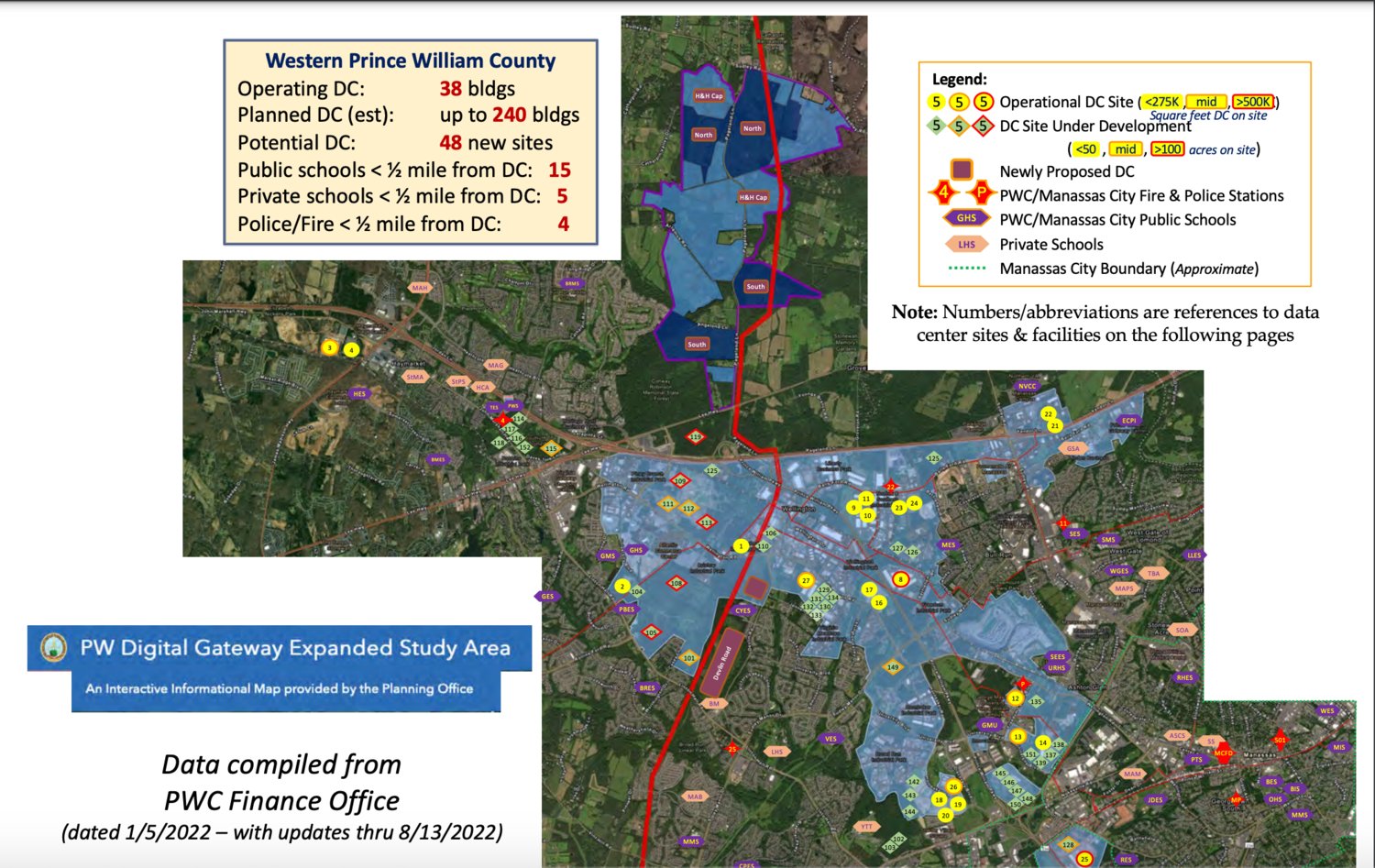 Dr. Ally Stoeger of the Prince William County HOA Roundtable
LETTER TO THE EDITOR/NOTICE/SUBMITTED
Dear Supervisors, Planning Commissioners, (Deputy County Manager) Mrs. Rebecca Horner and (Executive Director · Prince William Dept of Economic Development) Ms Christina Winn,
As a healthcare professional and chair of PWC's HOA Roundtable Health and Safety Committee, I again request a comprehensive map that shows the Gainesville/Bristow/Haymarket data centers already zoned as well as those proposed to be zoned in 2022.
Our community needs to see this important information summarized on a large, easy to understand map. Current county maps show data centers as a single point, whether individual data centers or a campus of 10 high-rise buildings. This has caused confusion, so almost no one in the hard-hit area of ​​Gainesville knows how many data centers have been approved or how many are about to be approved. Over the past 12 months, data center approvals have happened at lightning speed, package by package, with no attempt to show the impacted community the big picture.
My calculations show that the combined number of data centers that have already been zoned to Gainesville/Haymarket/Bristow + Devlin + PW Digital Gateway will total more than 130 data centers – all mid- to high-rise buildings on eight campuses near communities.
This is not an alley of data centers – it is a CITY of data centers and it is unconscionable that the citizens of the worst affected area are not shown a complete and easy to understand map with a graphic of accompaniment that demonstrates it.
Please keep in mind that over the past 12 months when the majority of these approvals have taken place, people have been overwhelmed by the pandemic and its economic repercussions. Yet here we are again, not even giving the residents of this community a chance to catch their breath after returning from summer vacation/preparing the children for school, before embarking on an aggressive program in early September. which includes the two largest projects to date — Devlin and PWDG Out of respect for this community, these projects must be postponed.
I believe that the health and safety of citizens in the Gainesville area will be at risk both during the construction phase of this CITY data center, as well as once this CITY data center is operational.
I have attached Dr. John Lyver's data on the potential impact of noise that could make this area unlivable. Current noise zoning ordinances are archaic, and data centers approved under these codes will likely be protected, as has happened elsewhere.
Please keep in mind that Supervisor Candland-R has been silenced or silenced. As a result, this community has not received an email, letter or town hall informing voters of the extent of the community's transformation. They had no reason to believe that their community would be rezoned into a huge industrial city. Not a Supervisor has operated on a data center amenities platform near dwellings or in the Rural Crescent.
From a health, safety and environmental perspective, this is uncharted territory. Nowhere else in the world approves of this kind of data center density around homes and schools. If Devlin and PWDG are approved, we'll have a mass of contiguous data centers up to 234, west on the I-66 corridor, south on Linton Hall Road, north on Pageland, and then of course it seems that Sanders Lane will step in. ALL citizens of PWC deserve to see a map of this mass of contiguous data centers that will essentially double in size if PCWG and Devlin are approved.
In summary:
1. Early/mid-September is too early for massive projects like Devlin and PWDG to be on the planning or BOCS agenda. We know September is a terrible time for parents who want to get involved. Because these projects will have a massive impact on families, if these projects are on the September agenda, you are effectively silencing people who have families.
2. Please provide a comprehensive, easy to understand map of data centers being built, approved or proposed in the Gainesville/Bristow/Haymarket postcodes.
3. Please provide a large, easy to understand map of data centers being built, approved or proposed in the 234 Corridors, I-66 West of the 234 Corridors, Linton Hall Road Corridor and Pageland Corridor so that all of PWC's citizens can see the contiguous mass of data centers that could be in their future if Devlin and PWDG are approved.
I understand that in some cases the county should provide a range of the number of data centers that have been approved instead of an actual number, and that's fine. I also understand that there may be zoning under NDA – I would appreciate an asterisk at the bottom of the map indicating that the map may not include proposed data center sites that are in NDA status.
If the county is unable to provide the two requested maps/graphs, I respectfully request the courtesy of an official response explaining why this information is withheld from the public. As stated in my previous email, I am sure you will agree that there is nothing more critical to democracy and justice than an informed public.
Sincerely,
Ally Stoeger OD
Health and Safety Committee
HOA round table from PWC
REMARK: On June 22, 2022, I sent the email below to everyone on this list except I added Ms. Winn, several reporters, and Ethan Gardner (assistant to Del Danica Roem). Please note that no PWC official responded to my initial request via email.- Ally Stoeger.
The argument of the article is that of Ally Stoeger and the PWC roundtable HOA and not necessarily that of Bristow Beat.
Bristow Beat found that the county does not provide information in its planning documents on the number of data centers planned for a site. In most cases, this exact number has not yet been determined.
The 130 data centers described by Stoeger are zoned for the Gainesville area, not including the data center overlay district (except where those sites are near schools or neighborhoods.)
The data centers most relevant to the HOA Roundtable are located near residential development and schools along the Linton Hall corridor, in Gainesville and Bristow, and near Tyler Elementary School in Gainesville on Route 55. , they stand against the Prince William Digital Footbridge along Pageland Lane. in the Rural Crescent.
1. Gainesville Crossing – 103 acres – 5 DC + substation
2. Village Square – 46 acres – 4 CC
3. I-66/29 – 97 acres – 6 DC + substation
4. Atlantic Research – 234 acres – 12 DC + 3 substations
5. Hunter/Bristow – 197 acres – probably 6 data centers
6. Devlin/Bristow – 270 acres – probably 9 data centers
7. Amazon – Haymarket across from Walmart – 3 data centers
8. Prince William Digital Gateway – 90
Attachments : Dr. John Lyver's estimates are based on calculating the area available for each park and extrapolating the number of buildings that can fit in each location.
According to its findings, county sites could house 240 data center buildings both in the overlay district and in the area near residential communities. This estimate includes Devlin Tech Park and Prince William Digital Gateway if both are approved by the PW Board of County Supervisors.
UPDATE: August 23 at 3:20 p.m.
Key words
data centers,

Bristol,

Gainesville,

Haymarket,

Northern Virginia,

Prince William County,

data buildings,

Prince William County HOA Roundtable,

personal watercraft,

Maps,

Devlin Road,

PW digital gateway,

Manassas