TransJakarta, international institution to cooperate on data management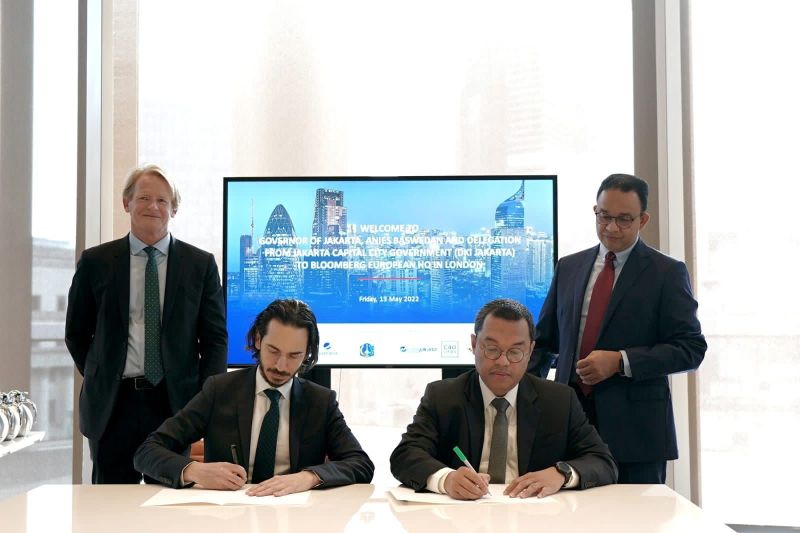 Jakarta (ANTARA) – Government-run regional transport company PT TransJakarta has entered into a research and data management cooperation with an international institution to support the full operation of electric vehicles by 2030.
In a statement on Monday, PT TransJakarta Director-Chairman Mr. Yana Aditya said the company is carrying out several collaborative efforts globally to achieve this goal.
PT TransJakarta's cooperation with Bloomberg New Energy Finance (BNEF) to manage data and research supports adaptation to energy transition in the form of shifting to electric buses, he informed.
A cooperation agreement was signed to this effect in London, England, on Friday by Aditya and BNEF's Global Head of Client Relations, Benji Kafri, in the presence of Jakarta Governor, Anies Baswedan, and BNEF CEO, John Moore.
Baswedan, who previously held a meeting with the institution's editor, noted that Jakarta aims to achieve net zero emissions by 2050.
"It was an interesting discussion on sustainable mobility or the sustainable development of public transport. We exchanged ideas on climate change mitigation measures," he said.
Related News: TransJakarta cooperates with British company to supply electric buses
In addition, he also spoke about the development of pedestrian sidewalks, bicycle lanes, the multimodal integration of public transport and several other initiatives.
TransJakarta's cooperation with BNEF, a provider of strategic research on global commodity markets and disruptive technologies, is expected to contribute to the transition to a low-carbon economy.
According to Aditya, the cooperation is a form of the commitment of the Jakarta provincial government to participate in the realization of the fossil fuel free roadmap program initiated by C40 Cities.
"To follow up on this, we are committed to making the transition from conventional buses to electric buses, with the objective of 50% of buses (fleet transformation) by 2025 and of all buses (fleet ) by 2030," he said.
Related News: TransJakarta Explores Green Bond Issuance on London Stock Exchange
Related News: TransJakarta extends free tourist bus services until May 11