Passed Pages July 2, 2012: More Data Centers Likely to Follow Apple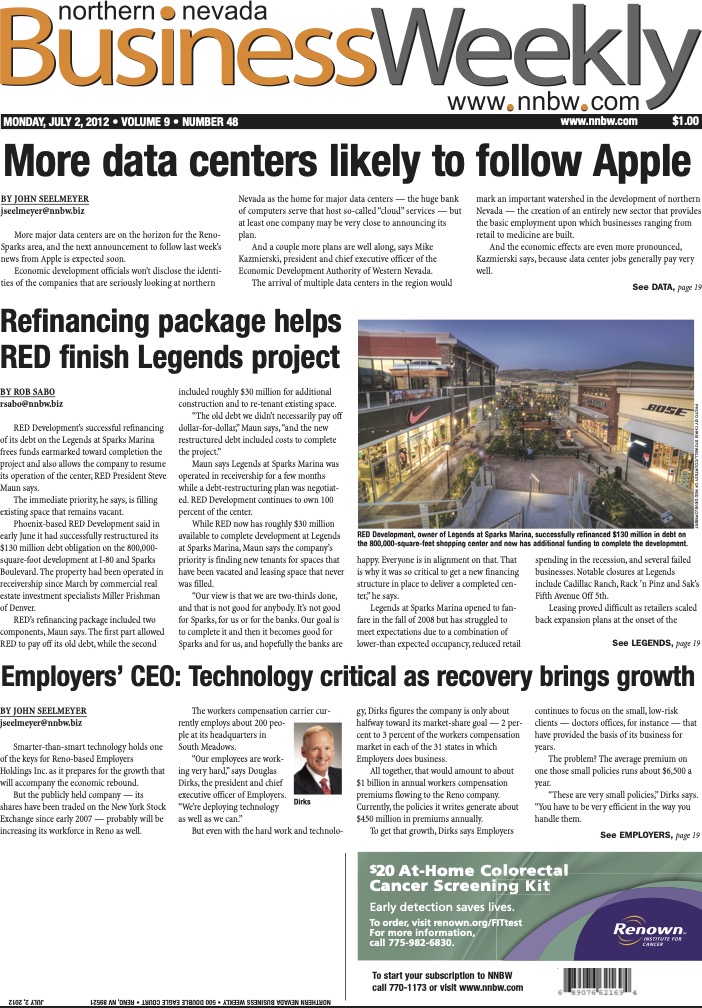 More major data centers are on the horizon for the Reno-Sparks area, and the next announcement following Apple's news from last week is expected soon.
Economic Development Officials Won't Disclose the Identity of Companies Seriously Interested in the North
Nevada is home to the main data centers – the huge bank of computers that house so-called "cloud" services – but at least one company could be about to announce its plan.
And a few other plans are well underway, says Mike Kazmierski, president and CEO of the Western Nevada Economic Development Authority.
The arrival of several data centers in the region would mark a significant turning point in the development of northern Nevada – the creation of an entirely new sector that provides the basic employment on which companies ranging from retail to medical are built.
—Page 1, by John Seelmeyer

Refund package helps RED complete Project Legends
RED Development's successful refinancing of its debt on the Legends at Sparks Marina frees up funds for the project's completion and also allows the company to resume operations of the center, said RED Chairman Steve Maun.
The immediate priority, he says, is to fill existing spaces that remain vacant.
Phoenix-based RED Development said in early June that it had successfully restructured its $130 million debt on the 800,000 square foot development at I-80 and Sparks Boulevard. The property had been operated in escrow since March by commercial real estate investment specialists Miller Frishman of Denver.
RED's refinancing program consisted of two elements, Maun explains. The first part enabled RED to repay its old debt, while the second
included approximately $30 million for additional construction and relocation of existing space.
"The old debt that we didn't necessarily pay back dollar for dollar," Maun says, "and the new restructured debt included the costs to complete the project."
Maun says Legends at Sparks Marina went into receivership for a few months while a debt restructuring plan was negotiated. RED Development continues to own 100% of the center.
While RED now has approximately $30 million to complete development of Legends at Sparks Marina, Maun says the company's priority is finding new tenants for the spaces that have been vacated and leasing spaces that have never been occupied.
—Page 1, by John Seelmeyer
Prepared remarks by speakers become rare in the era of informality
Smarter than smarter technology holds one of the keys for Reno-based Employers Holdings Inc. as it prepares for the growth that will accompany the economic rebound.
But the publicly traded company — its shares have traded on the New York Stock Exchange since early 2007 — will likely increase its workforce in Reno as well.
The workers' compensation carrier currently employs around 200 people at its headquarters in South Meadows.
"Our employees work very hard," says Douglas Dirks, President and CEO of Employers. "We are deploying the technology as best we can."
But even with labor and tech heard, Dirks believes the company is only halfway to its market share goal — 2% to 3% of the workers' compensation market in each. of the 31 states in which employers do business.
—Page 1, by John Seelmeyer
EDITOR'S NOTE: Each week, we feature excerpts from stories published a decade ago to provide readers with a 10-year perspective on economic news in the region. This week's stories were first published in the July 2, 2012 edition of NNBW.